Hey, hold up! This page may contain a lot of
spoilers.
It's recommended you play the game first before you read the article.

Metaverse Enterprise Solutions (MES) is a mysterious organization referenced in Doki Doki Literature Club Plus!. They are a company that doesn't have a clear specialization.
A task force within MES specialize in making simulated universes in order to figure out if our current universe is a simulation, as well as trying to make a profitable product that they can present to the upper management of MES.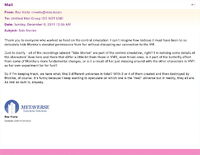 Said task force are currently working with two universes: VM1, which is the small-scale universe of Doki Doki Literature Club!, and a medium-scale universe in the making labeled VM2, currently only known as "TEST VM", though whatever access the task force have reveal a "Project Libitina" conducted by VM2's entities. In addition, they have forked VM1 to create a control simulation, in which Monika's access to her elevated permissions is hidden from her; this is the universe of the side stories.
The task force is led by Paula Miner, and houses a few named employees, namely Ro Teether, Ravi Raso, Lib Musi, Rea Vorte, and Ive Laster, although very little is known about them.
The only known MES employee not within the task force is Barry.
External Links